CNG - Compressed Natural Gas
Deltafluid has a track record of more than 20 years in the manufacture and maintenance of machinery and systems for the compression and distribution of natural gas.
Deltafluid has contributed solutions to the "Cubogas" trademark owned by Nuovo Pignone that have become standard ones for the market.
The engineering office of Deltafluid now also often works with manufacturers of compression units in the design and prototyping of products made to order. All the components are designed and manufactured for a specific application, fluid and pressure and temperature range, as well as for heavy duty use, and are provided with the certification required by Italian, European and international legislation, such as PED, ATEX, RoHS, etc.
DELTAFLUID PRODUCES COMPACT LUBRICATION SYSTEMS THAT CAN BE INSTALLED IN THE CHASSIS OF THE COMPRESSOR OR IN OTHER CONFIGURATIONS, DEPENDING ON REQUIREMENTS.
Deltafluid specialises in the manufacture of manifolds that save on both space and costs, involve far fewer connections and are much quicker and easier to assemble. deltafluid supplies manifolds already assembled in the required configuration.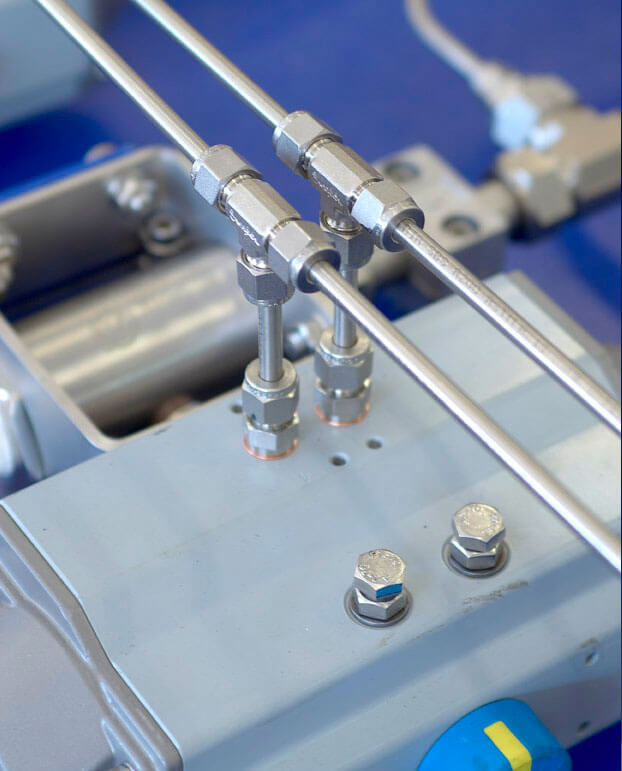 The 2-3-4 way/pressure priority panels are based on our own design or that of the customer, and come painted and tested and ready for installation in the plant.
We also manufacture high pressure ball valves for both air and gas that are extremely compact, especially in terms of height. The ball valve can be mounted in absolute safety and is made from materials with a low lead content, and has reinforced seals with stainless steel inserts.
Deltafluid offers an all-round service, supplying also many other components like:
Thermocouples
Thermostats
Pressure gauges
Transmitters