For the specific sector of contamination control of hydraulic circuits and lubrication, prevention means to ensure that no solid or liquid contaminants enter the system. € 1 spent on proactive measures is the equivalent of € 50 spent on reactive measures.
We can classify contamination as follows: infiltrated, removed and generated.
The correct balance of the level of cleanliness is attained when the contamination removed is equal to or less than that infiltrated. When this cannot be obtained, the contamination generated (wear of the components) increases to the detriment of the system, leading to a higher probability of faults.

Possible sources of contamination include: vents, tank vents, bearing supports (paper mills), new oil, maintenance, seals.
Air that enters the tank during expansion and contraction is rich in solid contaminants and moisture.
Prevention during this phase can avoid often very expensive correction measures.
AIR SENTRY AIR VENTILATION FILTERS
The AIR SENTRY line is a range of products suitable for all applications, with a double particle and absorbing filtration stage for removing both solid and liquid contaminants.

Air Sentry ventilation filters are used for the most common applications:
Oil immersed transformers
Wind turbine lubrication chambers
Hydraulic presses
Hydraulic tanks and lubrication in general
Bearing support vents
Oil and/or fuel storage tank
Oil drums
Tanks for mobile machinery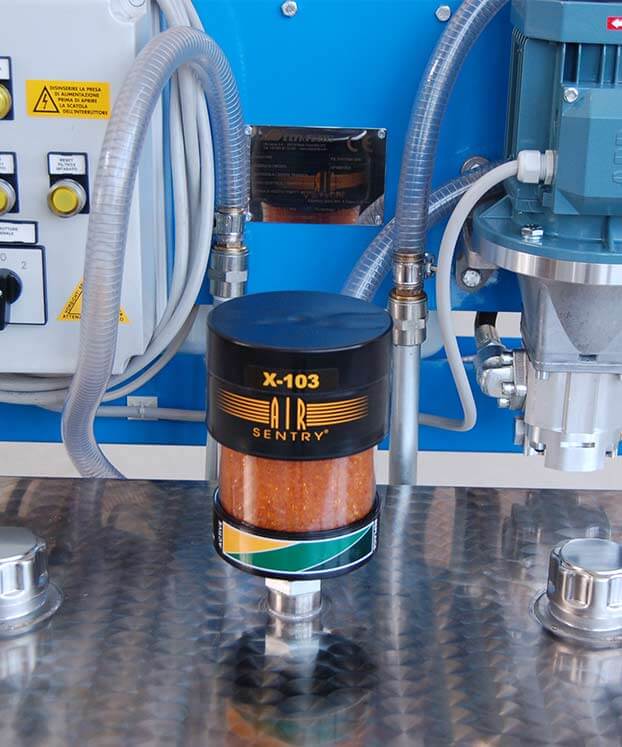 GUARDIAN AIR VENTILATION FILTERS
The Guardian line, one of a kind, has inlet valves that:
supply air only when required
supply only the amount of air required
are fitted with anti back-flow valves
prevent oil vapours from contaminating the resins
The last two measures ensure a longer service life with the same content of silica gel.
The Guardian also has an optical level indicator that can be clearly seen from a distance.